JOURNEYS
Origin
Mungo Martin, Chief Nakaṕankam (1881–1962) was from the Kwagu'ł community of Tsaxis (Fort Rupert). He was 71 years old and known as the greatest of the old-time carvers when he agreed to come to the Royal BC Museum in Victoria to do restoration work on poles in the museum's collection. 
Martin arrived in 1952 with his family, including his only son David, who died in 1959, and son-in-law Henry Hunt (1923–1985), who married Martin's adopted daughter Helen. Hunt worked with Martin in the carving program and after Martin's death became the head carver.
Henry Hunt's oldest son Tony Hunt (1942–2017) worked alongside his father and Mungo Martin in Thunderbird Park, as did other family members,keeping the promise that there would always be a Hunt at the Park. Henry retired when his son, Richard Hunt (b. 1951), a prominent carver based in Victoria, became assistant carver, and then head carver after his father's death. Members of the extended Hunt family have continued the carving tradition, passing down skills and cultural knowledge from generation to generation. 
The pole of the Kwakwa̱ka̱'wakw Nations was carved for the potlatch held to open Wawadiťła. This was the first legal public potlatch after the Canadian government dropped the law that banned it. Martin brought people together to witness the hereditary rights expressed in the house and its carvings and to celebrate the continuation of Indigenous culture despite a dark history of oppression.
The figures on the pole are not Mungo Martin's own crests, which would have been customary, but instead represent and honour all of the Kwakwa̱ka̱'wakw people. At the top is Thunderbird, a crest of the A'wa'etłala family at Dzawadi in Knight Inlet, whose original ancestor was the Thunderbird who transformed into a man. Grizzly Bear, an ancestor of a Kwagu'ł family from Tsaxis, is shown below holding a Copper, a symbol of wealth, and again in human form. Below that is Beaver, an ancestor of a 'Naḱwaxda'xw family at Ba'a's (Blunden Harbour). Dzunuḱwa, known as the Wild Woman of the Woods, is at the bottom of the pole, holding her child. This is a crest of a 'Namgis family at 'Yalis (Alert Bay), whose founder was the half-human son of Dzunuḱwa. 
The inclusive nature of the pole's imagery mirrors Mungo Martin's outreach work in Victoria. In the city he forged understandings between Indigenous and non-Indigenous people and influenced a generation of artists from many First Nations. 
Over the years, carving programs continued and expanded, despite a fire that destroyed the carving studio in 1980, and the structural decay and eventual removal of its replacement. Thunderbird Park and Wawadiťła were, and continue to be, the site of many Indigenous cultural activities and education programs.
Mungo Martin died on August 16, 1962, at the age 83 in Victoria and was taken on a Canadian Navy ship to be buried in Alert Bay. Henry and Tony Hunt created a 32-foot (9.75 m) memorial pole,  erected in 1970 at 'Yalis (Alert Bay) in memory of Hunt's great mentor, Mungo Martin.  
 
JOURNEYS
Today
Some of the poles that Mungo Martin and his family carved and erected in Thunderbird Park over the years are copies of existing poles from the museum's collection. The pole that stands in front of Wawadiťła is different—it is Mungo Martin's original design, and it stands in front of the house where it was created.
Many of the artists who participated in the Thunderbird Park Carving Program over the years went on to important international careers, in turn influencing new generations of artists. Mungo Martin's house, Wawadiťła, is still used for Indigenous events, with the permission of his descendants. 
The Indigenous Summer Arts Studio, launched in 2019, provided a place for Indigenous artists to create, share, learn and network with peers, and where emerging artists can connect with senior artists and arts mentors. Lou-ann Neel, repatriation specialist at the Royal BC Museum noted, "For more than 50 years, this was an important function of the original Carving Studio. It was important to re-establish a space for urban Indigenous artists who might not otherwise have access to mentors."
CONNECTIONS
Related Carvings
Community
Image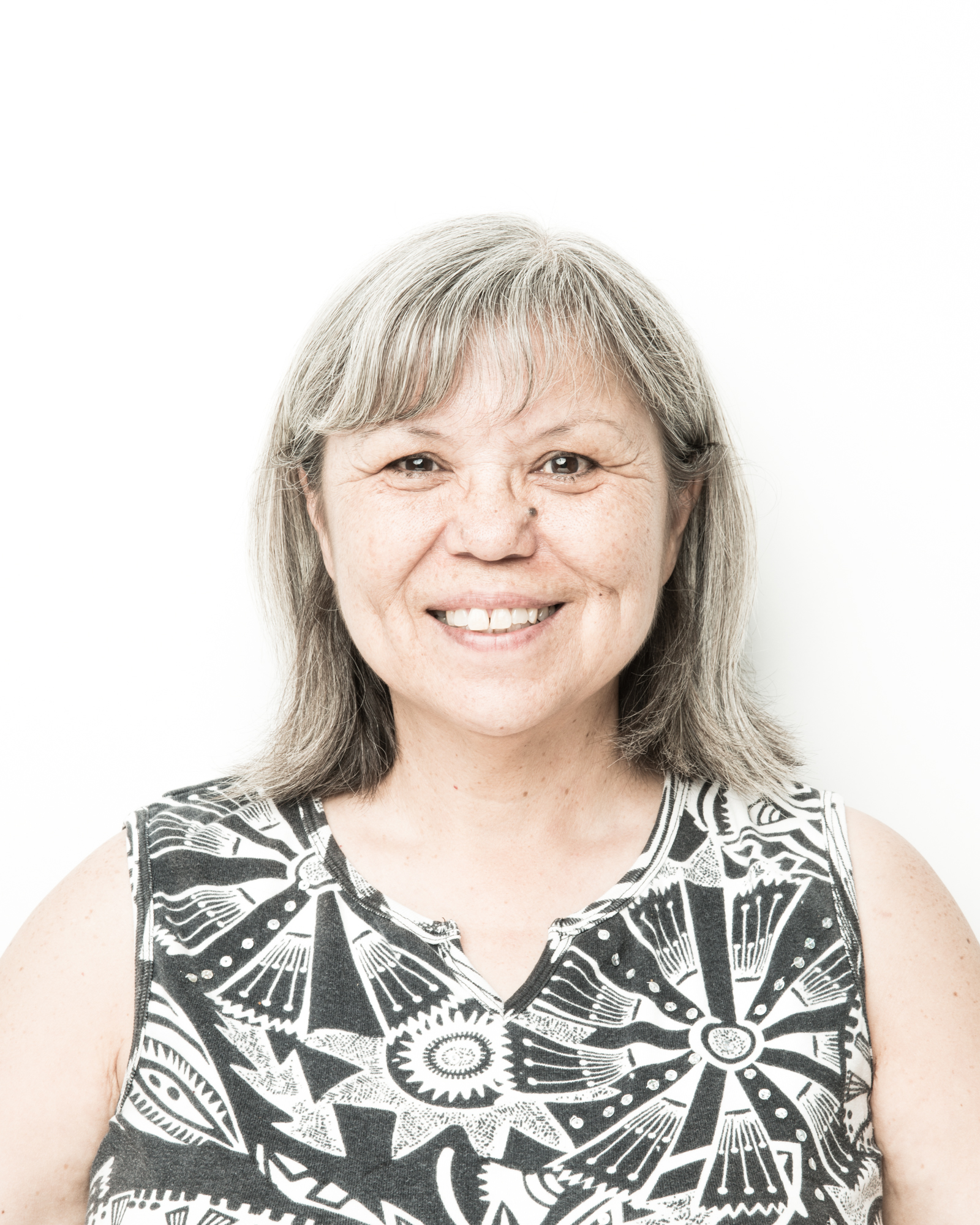 About The Community Member
Gilakas'la! My name Kwak'wala name is Ika'wega, and my English name is Lou-ann Neel; I am from the Kwagiulth and Mamalilikulla tribes of the Kwakwaka'wakw people. I am a practicing Kwak'wala language learner and  visual artist.  In addition to my work as a language learner and artist, I have worked for over 30 years in policy and program development in the areas arts, culture, languages and community development. I currently work full time at the Royal BC Museum as the Repatriation Specialist, and enjoy meeting people from all BC communities to discuss repatriation and reconciliation.
U'lamgilagw, Lily Erford (nee Flanders), is from the Mamalilikulla, Ma'amtagila and Da'naxda'xw tribes of the Kwakwaka'wakw people. Now retired, Lily worked as a Licensed Practical Nurse and then as a Registered Nurse for 37 years at the Royal Jubilee Hospital and the Victoria General Hospital in Victoria, BC. Lily is a fluent speaker of Kwak'wala (her first language), and she has been a language teacher in urban Kwak'wala language classes that take place in Victoria, BC. Lily is also called upon frequently to assist in translating a wide range of texts from English to Kwak'wala and vice-versa.
Explore a curated selection of Royal BC Museum objects and contemporary photographs that inspire this community member to continue working in the tradition.
Image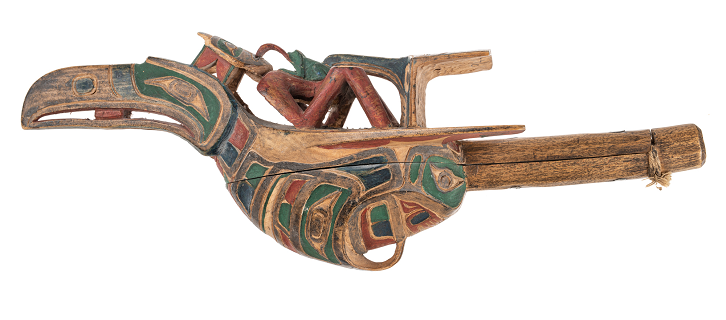 Image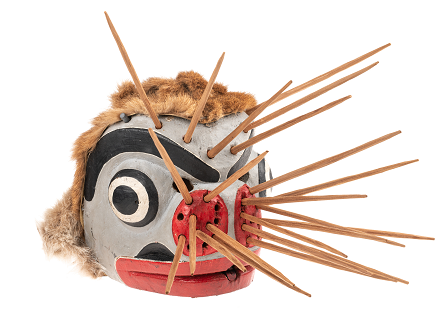 Image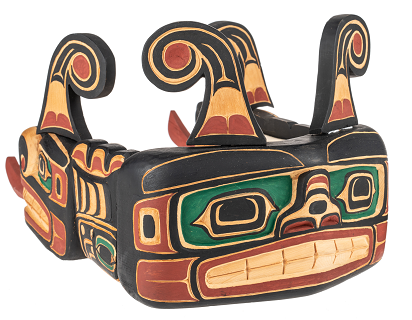 The headdress is a double-headed serpent.
Image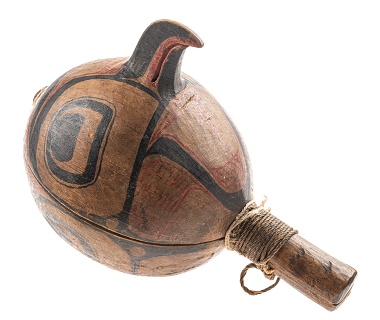 This is a rattle with a Raven
Image

A small carving of a Sun, Whale and Ancestor pole
Image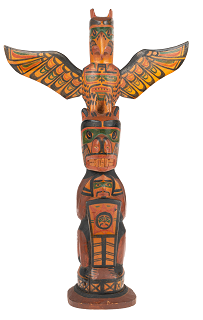 A small carving of a Thunderbird and Bear pole.
Image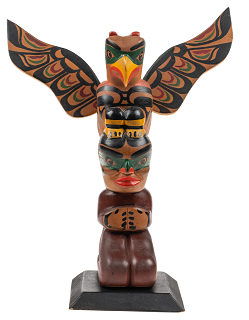 A small carving of a Thunderbird and Bear pole.