Welcome Figure (RBCM 19114)
Image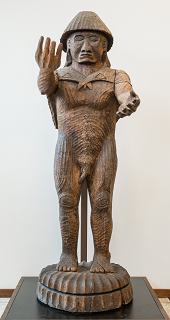 Carved figures stood facing the beach in front of First Nations communities to welcome visitors arriving by canoe for potlatches and other events.  Simon Charlie carved this contemporary version of a Coast Salish welcome figure in Thunderbird Park at the Royal BC Museum for exhibition at Expo67 in Montreal,  where it was erected in the Indians of Canada pavilion along with works by Mungo Martin, George Clutesi and other prominent Indigenous artists from across Canada. It was returned to the Royal BC Museum and now stands in the museum's lobby at the east entrance.
Simon Charlie, Hwunumetse' (1920-2005), was a Cowichan carver based in Duncan on Vancouver Island, who influenced generations of Coast Salish artists and helped to make Coast Salish arts better known in Canada and internationally. His son, Cowichan elder Arvid Charlie, Dr Luschiim, carries on his cultural work.
Do you have a story to share about this item? Add your voice to the community.